It seemed everything is working fine – except that if I ring the Opener will ring again repeatedly every few seconds (the door bell only rings once). This doesn't happen though if I activate "Ring to open". As a side effect battery goes down within one week before I have to replace it.
After few months of replacing batteries every week I thought I need to check on it again. Today I found out, that with ring suppression turned off the Opener permanently rings. So obviously ring suppression on "Ring to open" explains what I described above.
Btw: opening the door works fine.
My guess is that the ring cable has a permanent voltage whereas on the actual ring action voltage goes up. That's what I can think of as an amateur.
I live in an old multi family house, building year 1969 (or so). There is no proper intercom, only a bell and a button to open the door – and a few cables. During the setup in the app I chose "Generic → Analogue".
Now my hope is that someone can figure out the problem or a workaround. Here are some photos (since I'm a newbie I can't attach the photos to this post):
That's inside my flat with the door opener button:

That's the doorbell (Honeywell 1203):

And I tried to make a diagram of my current setup. There are 4 cables coming out of the wall (yellow, red, green, black). I considered also the colors of the Nuki Opener.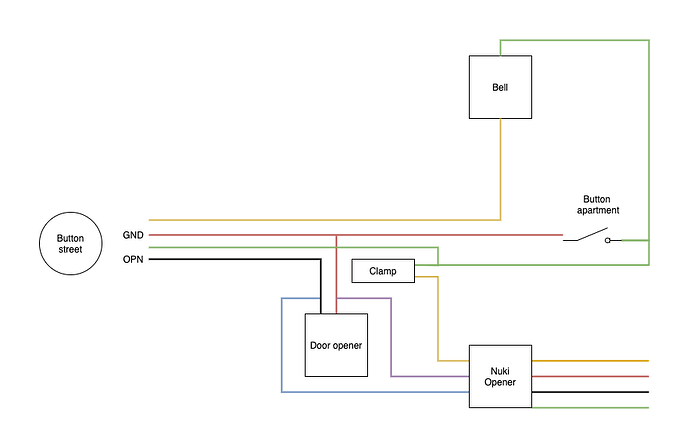 I'm thankful for any help.