EDIT: UPDATE AT THE END
I am having trouble setting up my opener to work with my door bell. While TCS is not (anymore?) officially supported in the list of manufacturers, I have found some resources that show that it should work:
TCS was apparently supported at some point which this pdf proves. However TCS cannot be picked from the manufacturer list in the Nuki app.
This guy on twitter was successful eventually after he got a replacement for his apparently broken opener:
And this google image search result shows that someone on this forum got the ISW3030 to work but struggled with the bell ring suppression. The thread seems to have been deleted though.
After a lot of googling it looks like the internal layout is identical to a Koch TC50, so i chose that device from the selectable devices.
I used the exact wiring as the twitter guy has, which is identical to the instructions for the Koch TC50.
According to this website, the TCS ISW3030 is compatible with the Nuki Opener.
Can someone point me in the right direction? It feels like I'm very close to a solution. This is the inside of the ISW3030: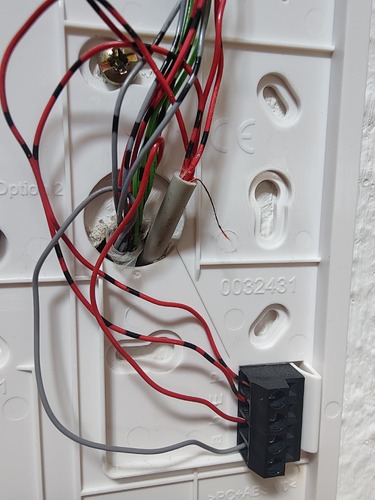 I re-did the wiring 3 times to rule out any issues with the wiring or other connectivity issues. Every time I finish the setup, the same error screen tells me "Die Installation der Gegensprechanlange entspricht nicht dem Standard".
If I can help to expand the list of supported devices, I'd be happy to help. Let me know what info I should provide.
EDIT:
I got it to work. I used the wiring from the google image result, taking the wire from b to join with yellow and red, then putting orange and green to b. Then also adding the black wire to a.
The current setup gets me through some steps of the setup but fails on the "open on ring" step, which is weird.