Is your server Down?
4PM 30.08.2021 ?
all bridges are not accessible also via web.nuki.io, api.nuki.io is down. ?
Hello,
I am having the same issue.
Can't log in to Nuki Web and all connections are down.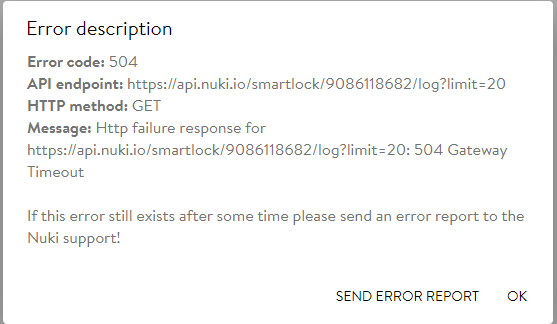 Thank you
same here, bridge can't connect to the server…
Jo, same here. I can't get into my flat.
Same problem. All bridges down, no replies from servers.
Same for me, no connection to all my bridges
Mayday, mayday, mayday …
No api, and we cannot command using the Nuki web…
Is there an architect ?
We are experiencing an issue within our IT infrastructure impacting the general Remote Access. Our teams are working to fix this issue.
How come your support sent me a message that the issue was resolved?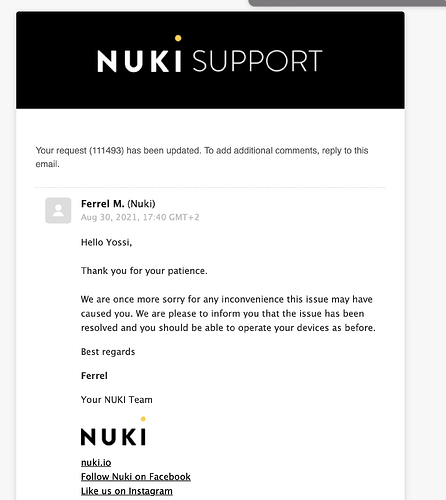 This is not a joke
We are running over 500 apartments with NUKI, many of our guests are stuck outside.
(it's a short term rental business)
Would it be possible to have your status site as an JSON page,
so i can include it in my IT-Infrasture ?
So i can check this automatically?
or even a slack webhook like most status pages today
Same here, but in the meantime it's solved I think, because it's working again! Thanks!
Should be doable. We'll look into it.
We'll follow this up with our support team. Someone should contact you soon (if it has not happened already).
currently I have again the same problem. Server not reachable…
work fine for me. all service are online