Hi,
I'm trying to install a Nuki Opener with a ISM 2404 NIDT, a very popular brand in UK's former council-built houses.
The ISM 2404 seems to be built on the technical scheme of a Comelit 2404W, same ports, very similar board, as a matter of fact old ISM terminals had Comelit circuit boards inside.
It's super hard to find ISM documentation online (since it's not a consumer brand) I decided to wire the NUKI with the Comelit 2404W and it seems to work almost fine!
The ring is detected, the door can be unlocked. The only problem is that nothing works unless you receive a call first and, more problematically, unless you'd pick up the phone and answer.
When the ring signal is received, NUKI correctly tries to unlock the door, but nothing happens unless i pick up the phone, only then, the door unlocks.
As you can imagine, this defeats the purpose completely.
I tried to connect the blue button to various terminals, but without success, i tried with and without ring suppression, and equally no luck. I mean… The ring gets always recognized (i see it in the log files) nuki, always unlocks, but nothing happens.
Am I missing something? Is there something I can do to override the need to respond to open the door?
(Attached a picture of the terminal)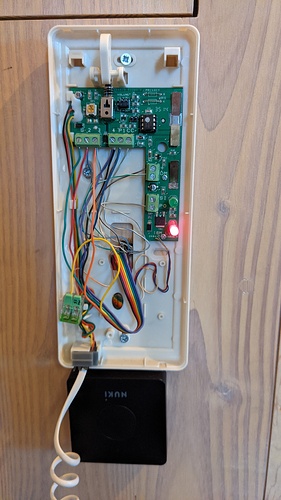 Thank you!