Hello everyone,
I couldn't get a proper feedback from Nuki support team but wanted to see by myself if I could connect my Intercom to the Opener so I ordered it!
For my Airbnb I need to give access people to the building at the corresponding entrance programmed hours.
I live in a French building from 1975 where all the intercoms are connected using analog signals. The exterior of the intercom looks like a Bitron Video AN 0002, but inside I only have a board with only 2 ports. There is +11V between the red wire and white wires.
There is 2 buttons: opening and speaking.
If I push the opening button, the 2 wires are short circuited and the door opens.
If I push the speaking button I can speak, but no short circuit.
I was thinkink about wiring the 2 grounds together to the (1) of the intercom, and to wire the RING and OPEN wires of the Opener to the (2) of the intercom: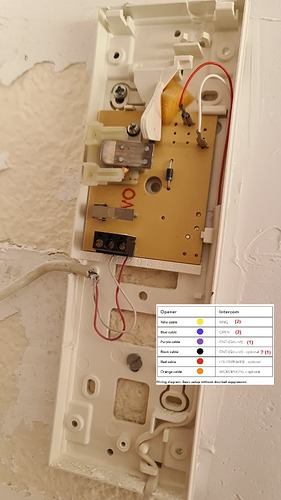 Is there any risks to damage the Opener by doing this wiring installation?
Does the community may help me understand how the Opener works and how I can connect it to my intercom?
Thanks for your support.
Damien