Hi, long time Nuki user and recently brought a second set of Lock+Bridge 2.0, however, for the life of me, I cannot seem to be able to pair the bridge.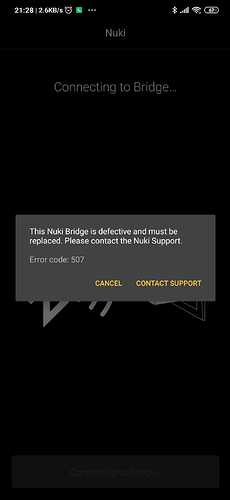 I am getting this peculiar error message that persists despite many pairing attempts, updating to the beta android app and button holding on the bridge.
I dug through the app logs and found the following to be of interest.
2019-07-30 23:47:55,885 - [INFO] main .Uv:20 - Got Bridge Firmware version = 2.1.22
2019-07-30 23:47:55,885 - [WARNING] main .Uv:23 - Got Bridge v2 - but firmware version is too low!
2019-07-30 23:47:55,985 - [INFO] BleHandler .fU$a:2 - [00:0D:6F:A4:21:AC] requested ble disconnect for mac 00:0D:6F:A4:21:AC
I already have contacted support as the app suggests, but still waiting on an answer.
edit: Got a reply, but while we are figuring out logistics issues, I could still cancel the return.
However, I got to thinking and since it sounds like a firmware issue, maybe there is a workaround to flash new firmware without pairing? I would love to save both time and money for myself and Nuki.