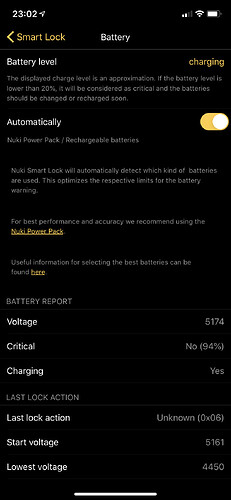 Hello,
After one month of using the battery's that come from nuki, i got the rechargeable battery's from eneloop pro.
When i want to check my battery level it said:
Charging.
Is this normal? Because they are reachable batteries but they are not charging in the nuki:)
The old batteries showed me percentage in the colum : battery level
Now I guess i can only see the percentages when i press 7 times on the text. Did i do something wrong by putting the batteries wrong, but than i wiuld think the nuki wouldn't work.
Any one knows that this is normal?