2.6.9 works like a charm. Really reliable now.
Hi. I've been trying the public and beta apps with my newly acquired Nuki 2.0 lock (Pixel 4XL, latest security patch on Android 10, disabled battery optimisation, etc).
v2.6.9 beta definitely works better than the public app, although a couple of times I did need to wait 15-20s at my front door and rapidly received geofencing trigger and then door opened (both within 1 second), even though my phone screen was on. I am now experimenting with geofence sizing to see what works better - it seems 50m is better when walking and 100m when I am driving in.

One thing I am not sure about though, if it is causing issues. I am running the Covidsafe contact tracing app (here in Australia) and it could be contributing to some issues (I had to disable the app to peform a firmware update).

I have noticed that in the beta version of the app, it takes a long time to get the current lock state or Activity log (30s++) if I am accessing this remotely (not in bluetooth coverage). Sometimes it times out with a bluetooth error, then I have to hit "Retry". This is totally different to Nuki Web where the information is rapidly available. I have bookmarked Nuki web and use it remotely now instead of the app.

I am thinking of upgrading to Android 11 beta if you need more testers on that (assuming that it does work).
Thanks.
Ad 1) You might be better off by increasing the geofence size to 200m (or more). A bigger fence will trigger earlier when you come home.
Ad 3) This could be a sign of bad signal quality between bridge & Smart Lock.
Thanks. I will increase the geofence and give this a go.
Also, I might move the bridge a bit closer (or change orientation). It is about 2.5m away.
I do note that when I try to manage bridge from the app, it always prompts to put the bridge in maintenance mode by pressing the button on it. I guess you can only manage the bridge when you are physically close to it.
Today, we released another beta of the upcoming 2.6.9 release.
Hi. I'll be testing Auto Unlock over the next few days. It was not too reliable with 2 phones with the first version of the beta. I received quite a few Cancelled 0x03 when I was home but my wife was returning.
I do note that my activity log is showing a very high number of sensor jammed errors this morning. This wasn't the case until recently.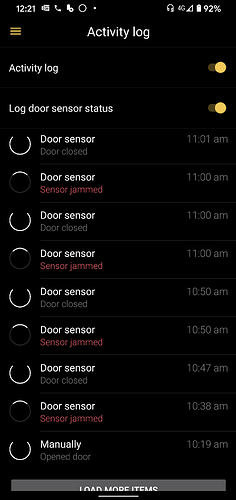 The cancelled (0x03) can happen if a unlock happens manually or from the app and the auto unlock is triggered immediately after it. So the auto unlock is cancelled.
Regarding the jammed door sensor, please re-calibrate the sensor. If this behaviour occurs again, please contact our support at https://nuki.io/en/support
Hi. I wanted to report that this update has been rock solid for me. My wife and I have been using Auto Unlock for the last 2 days (after calibrating the door sensor again above) - and have done at least 10 Auto unlocks thanks to our kids:) It has worked quite well, leaving all Auto Unlock settings on Default.
Hi,
after this update, the usage is for me completely broken.
The device status screen is loading and loading. rind to open can not be started, auto unlock doesn't work and administration is not posible.
please help me
Just an update - after a week of extensive testing. I've had a 100% success rate with Auto-unlock on both my Pixel 4XL and my partner's Note 8. I'll be updating to Android 11 beta 2 next and report back.
Great to hear! Keep us updated on our experience with the Android 11 beta. Thank you!
Just an update. No major problems so far on Android 11 beta 2 on my Pixel 4XL, auto unlock works a treat.
Not sure if this an app issue, but earlier today I had to recalibrate my door sensor (after my kids left the door sightly ajar for an hour - the sensor didn't seem to register a door closed properly after that). Anyway, I recalibrated from the app but encountered an issue when selecting saving of sensor startes in the logs option. Bluetooth is very flaky in this Android beta - I had to disable my Samsung Watch and Covidsafe tracking app - then I was able to save this setting.
Its now the second time that the door unlocks abouz 10 minutes after we entered already and the door is opened by one device with Auto unlock. But it seems the second smartphone aktivate again Auto unlock. Both devices are running unter Android
Please activate the "Debug mode" on both devices and get in touch with our support at https://nuki.io/en/support and attach both logs when the problem happens again.
Hallo,
Ich nutze sich 2.6.9 Beta, komischerweise wird bei mir im Play Store nur eine Version vom 26.6. angezeigt.
Es kam jetzt schon vermehrt vor da Auto Unlock nicht funktioniert hat.
Öffne ich die App ist sowohl beim Smartlock als auch beim Opener Auto Unlock aktiv (gelb hinterlegt mit Ablaufender Zeit).
Drücke ich in der App auf öffnen wird sofort geöffnet.
Das ist korrekt, die Beta wurde zum Public release.
In diesem Fall bitte das Debug-Log aktivieren und wenn der Auto Unlock nicht funktioniert das Log mit einer Beschreibung über die App an den Support schicken oder direkt über https://nuki.io/en/support unseren Support kontaktieren.
Hi… any release notes for 2.6.10? Just showed up in my Google Play updates list. Thanks.